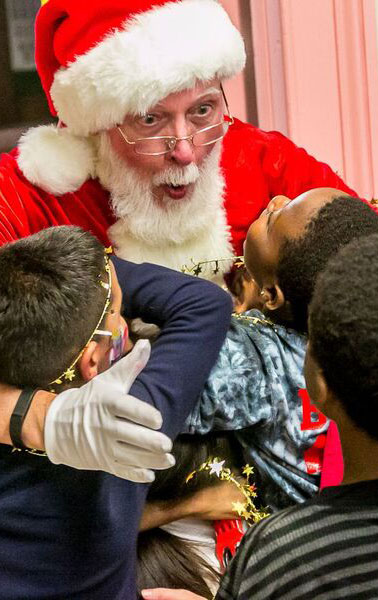 Mission
The Holiday Express mission is to deliver music, food, gifts, financial support and friendship to those with the greatest need for the gift of human kindness during the holiday season and throughout the year.
About Us
Founded in 1993, by Tim McLoone, Holiday Express  believes no one should be alone at the holidays. Our programs use the healing power of music and friendship to improve the quality of life for those often forgotten. In 2017, our 25th season,  Holiday Express will visit 100 organizations in the metropolitan tristate area, bringing hope and joy to 27,000 people. Of the charities Holiday Express serves, the majority are registered 501 (c) (3) organizations. For many of these organizations traditional sources of funding are not sufficient to provide basic needs.
While most of us look forward to the holidays with excitement and anticipation, for some the months of November and December are anything but joyful or peaceful. The holidays for those struggling with financial problems, health issues, and loneliness can be a time of increased sadness, and stress. This is often the case for the people Holiday Express serves, which include those with mental and physical challenges, veterans, individuals in addiction and recovery programs, the isolated, the poor, the homeless, and children with serious illnesses.
Our signature program provides an interactive holiday musical extravaganza led by a team of volunteer professional musicians, a delicious meal, fun holiday activities, and a gift bag – a well-stocked canvas duffel bag of brand new, useful and practical items, including a warm blanket, toiletries, gloves, hat, and scarf. Over 2,000 volunteers work year-round to make a difference in the lives of adults and children in need. In most cases, ours is the only holiday program offered at the organizations we visit. Holiday Express receives no state or federal funding of any kind. All the money, food and gift bag items are donated or purchased at discounted prices.
While a majority of the charity programs take place from November 6th through December 24th, our staff and volunteers work year-round in our 8,500 square foot warehouse to prepare for these events and fundraising activities.
Holiday Express brings hope and joy to thousands of people each year. We are a critical link to the forgotten individuals and society, fostering the healing connection between music and people.