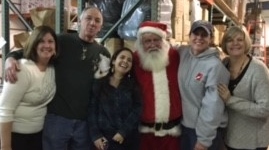 The Holiday Express Staff Team: (left to right) Dawn, Joe, Ashley, Santa, Amy, Lorrie
Dear Friends of Holiday Express,
Human Kindness and Holiday Express go perfectly together; they are the words that capture the spirit of who we are and what we stand for.  Holiday Express is blessed with an amazing team of fun-loving and hardworking elves, talented musicians, and amazing supporters who recognize that now, more than ever, the world needs more kindness.  Our small but mighty staff is extremely grateful for your support, and we are honored to have you on the Holiday Express Team! Together, we are making a difference in the lives of those desperately in need and often forgotten, and we want you to know how much we value your commitment to helping us to deliver the gift of human kindness.
When you share your time, talent and treasure with Holiday Express, you become directly invested in our mission to deliver the gift of human kindness to those who need it most.  Rest assured that the impact of your thoughtful and generous investment is long lasting. It is our promise to you that we will continue to serve those less fortunate in our society with integrity and assurance that they are not alone.  We are grateful for the many partnerships, corporate supporters, in-kind donors, and grantors who support our mission and the good work that you entrust us to do.
Thank you all for bringing holiday joy, happiness and the healing power of music to those we serve.  As we reflect on our 24th season of 90 events in 48 days, we look forward to celebrating our 25th season of 100 events with you!
With heartfelt appreciation,