---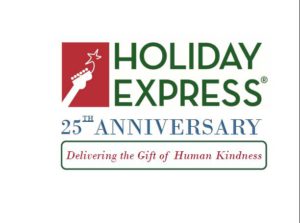 In 2017, look Holiday Express celebrates 25 years of delivering the gift of Human Kindness!
Please help us deliver the gift of human kindness to those who need it most in 2017. Donate Today.
Your gift makes a difference:
The places and people we visit, an under-served and isolated population, benefit greatly from the healing power of music and friendship. They receive very little or nothing and we want them to know that they are important to us. To fulfill a need, individual gift bags are an essential part of each event. In many, if not most instances, the gift bag they are given may be the only gift they will receive during the holiday season. To fill these gift bags we rely on the generosity of the caring community.
 A $25 donation can provide hats for 20 adults with developmental disabilities.  Their Holiday Express hats remind them that they are now part of our larger Holiday Express family all year long.
A $50 donation can provide warm gloves, knit hats and rain ponchos for 2 low-income families. This cold weather gear will protect the parents and children from the elements all winter long.
A $125 donation can provide cuddly stuffed toys to 35 critically ill children living in a specialized hospital. These toys will give the children a warm friend to hug as they fall asleep each night.
A $250 donation can provide complete gift bags – a duffle bag filled with essential items to 10 veterans.  The gift of a knit hat, gloves, socks, wash cloth, and toiletry kits will help them stay clean and warm long after the Holiday Express band has left.
A $500 donation can provide 100 toiletry kits filled with toothbrushes, toothpaste, deodorant, chap stick, soap, deodorant, and shampoo. These items are an important part of the 27,000 gift bags Holiday Express will hand out during the 2017 Season to each of our guests.
A $1000 donation can provide bus transportation for musicians, and Holiday Express Elves to a long term psychiatric center to visit critically ill patients. These visits give the patients an opportunity to socialize, dance, and something to look forward to all year round.
---
Date/Time
Wednesday, March 22nd, 2017
6:00 pm - 8:00 pm
Location
Holiday Express Warehouse